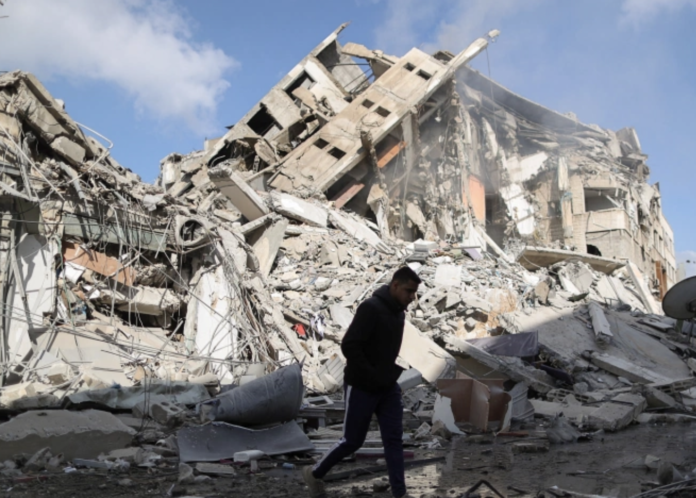 Gaza City – When Mohammad Saad learned that an Israeli airstrike had killed his cousin Reema Saad, he sated the news hit the family "like a bolt of thunderball".
Reema, 31, her husband Mohammed Telbani, 29, and their two children were in their home in the Tel al-Hawa neighbourhood of Gaza City in the first hours of Wednesday morning when an airstrike hit the house and devastated their home.
Reema, who was 4 months pregnant, and five-year-old Zeid was killed instantly, and Mohammed later died in the intensive care unit, but the body of their daughter, three-year-old Maryam, has still to be found from the site of the attack. Saad stated the family received no warning before the airstrike.
"I am communicating with the fire brigade and civil defence personnel in Gaza to help us locate and rest Maryam and be buried near her mother, who would have wanted it," Saad said.
The day before the airstrike was a joyous one, with Reem visiting her family to congratulate her brother on his engagement. "The next day, she went home and was targeted," Saad said.
The family hides the news of the killings for Mohammed Telbani's mother for fear she could suffer a heart attack.
Since Israel launched airstrikes on the besieged Gaza Strip late Monday, the Gaza Ministry of Health says at least 113 people, including 31 children, have been killed and 580 others wounded.
At least seven Israelis, including a child, have been killed in rocket attacks by armed groups in Gaza, which is controlled by the Palestinian group Hamas.
The latest increase in violence has followed weeks of tension in occupied East Jerusalem over a now-adjourned court hearing on the forced eviction of several Palestinian families from their homes in the Sheikh Jarrah area.
Frictions in the city also spread to the Al-Aqsa Mosque compound, which attacked Israeli troops during the last week of Ramadan on three consecutive days and fired tear gas and stun grenades at worshipers in the mosque.
Hamas issued an ultimatum on Monday to demand that Israel withdraw its forces from the complex, the third holiest site in Islam that is also revered by Jews.
Shortly after the deadline, Hamas sent several rockets to Jerusalem, with Israel launching airstrikes shortly thereafter.
According to the Israeli army, about 1,600 rockets have been fired from Gaza to various places in Israel since Monday.
Its spokesman Jonathan Conricus told reporters on Thursday that attacks on Gaza would continue as Israel prepared for "multiple scenarios".
"We have land units that have been prepared and are in various stages of preparing land operations," he said. Israeli Defense Minister Benny Gantz has approved the mobilization of another 9,000 reserve troops.